For the first time in two years the Victorian solicitors took home a 5-3 victory in the annual Barristers vs Solicitors hockey match.
The match, which was sponsored by Burgess Paluch Legal Recruitment, kicked off at 7pm despite the 27 degree heat and the relative lack of fitness of some of the older players on both sides, although there were plenty of younger players struggling as well!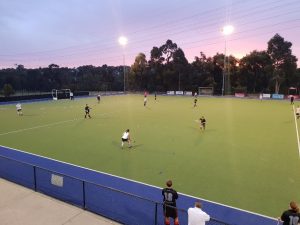 Both sides sported some pretty handy talent, with current and former Premier League and State players representing both sides, with the odd high grade ring-in filling in the ranks too.
While the Bar scored early, Victoria's solicitors came back hard and fast, scoring a flurry of goals to see them leading 5-1 at half time.  The barristers fought back in the second half but couldn't catch up to the solicitors' head start, with the final result a fitting 5-3 victory to the Solis. As the umpires noted at the presentation though – at least the Bar won the second half.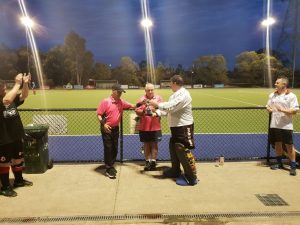 Hugh Maclaren, a Partner at Meerkin and Apel is seen here accepting the trophy for the Solis and Gus Ryder, a junior lawyer at Clarendons, took home player of the match for his outstanding performance on the field.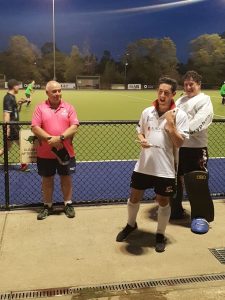 Victoria's solicitors and barristers have been facing off on the hockey field for decades and while the match was hard fought and of a high standard, it was played in great spirit. Both teams kicked on afterwards with drinks to celebrate and commiserate.